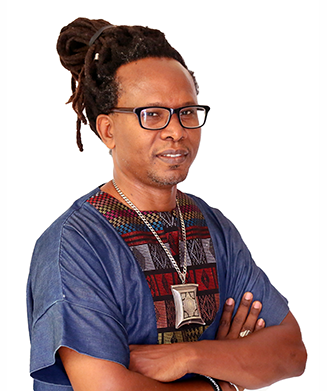 Tidiane Ba is AKADEMIYA2063's Visual Design and Production Senior Specialist. He is in charge of managing and producing all visual communications including print design, web graphics, photography, video production, and branding for A2063 and its programs. Prior to AKADEMIYA2063 Tidiane held the position of Visual Communications Specialist at IFPRI which he joined in August 2019.
His past experience and responsibilities include organizing the layout of digital and printed documents, creating graphic guidelines and video content, designing newspapers, annual reports, banners, kakemonos, and many other communication materials. He has more than 20 years of experience in this domain and has previously been working for NGOs, communication agencies and for several projects in Senegal, Mali, and Burkina Faso. Tidiane worked as designer and teacher assistant for the Université Virtuelle du Sénégal (UVS).
He holds a degree in multimedia computer graphics from AFPA (Afpa Centre de formations professionnelles qualifiantes pour adultes) in Metz, France, and a certificate in graphic and layout designer from the same school in Lyon, France.